To view the weather up on the Lake click the icon above.
John Yurkovich&nbsp

I am not the John Yurkovich who has the car dealerships in Michigan. I am the Realtor from Southern California and you heard right- I am retired,or at least until I look at what is left of my 401k.
I have moved from Southern California to Minnesota. I live part of the time by the Twin Cities and I have a place on Lake Pokegama about a hundred miles from the Canadian border. Pokegama Lake is located about five miles south of Grand Rapids Minnesota. Pokegama Lake is connected to Jay Gould Lake which is connected to the Mississippi River so I have miles and miles of fishing and boating. Lots of islands to park the boat and fry up some fish or just watch the bald eagles do some fishing of their own. Being that we are only about a hundred miles from Canada there is an abundance of wildlife in the area and Grand Rapids is known for hunting and fishing. (Given my current fishing skills the fish have little to worry about)
Grand Rapids is located in Itasca county which has over a 1,000 lakes. No, I did not make a mistake and add a zero that is not a hundred it is really a thousand lakes. Grand Rapids is located five miles from Bovey which is where my Grandfather owned a lumber camp in 1909.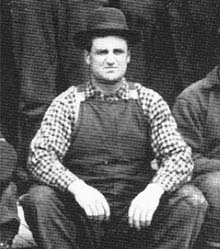 Above is a picture of my Grandfather taken in 1909. At the time the picture was take he was one bad ass Lumberjack in Northern Minnesota. Gramps is about 30 years old and is wearing his Sunday go to meeting Bowler hat. Most lumberjacks at that time had knick names and his was Devil Dan.


Rosalie Craig's grandfather was a Lumberjack in Craigville (a small town in Northern Itasca county named after him) he was known as Smokin Jesus and we are convinced they must have known each other. It has been said that Lumberjacks had two favorite pastimes, drinking and fighting and rumor has it both grandfathers like to participate in the favorite pastime.

I am just starting the family album, check it out it will get larger. Just click on Yurkovich Album

If you want to e mail me just click john@johnyurkovich.com or you can give me a call 949-632-159. For more up to date stuff check out my facebook page, it has some different pictures. John Yurkovich




Copyright? 2000 - 2009 all rights reserved. All names, logos, images, midis, and pictures displayed on this site remain the copyrights and trademarks of their respective owners and they retain the ownership and credit unless designated as public domain. This site is not endorsed by any organization or web site mentioned or linked. It is the intent of these pages to recognize John Paul Yurkovich. Comments or suggestions regarding this Web Site should be addressed to the webmaster.



Problems? Comments? Notify Webmaster
Last Modified April 3, 2009